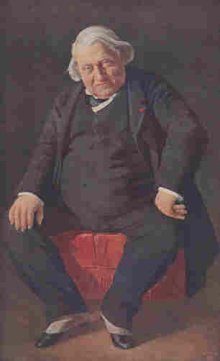 Joseph Renan
More on Renan's work (dailynietzsche.blogspot.com)
[Friedrich] Nietzsche may sympathize with France, but he is no sympathizer of Renan. Nietzsche felt Renan's ideas were irreconcilable in their contradictions; and thus he attacked him on the basis of his writing style, which is rich of Catholic-laced persuasion and bravado. —Is Renan's antisemitism still surprising?
Starting on page 513 of *
The Portable Nietzsche
in
Twilight of the Idols: Skirmishes of an Untimely Man
, Nietzsche writes:
Renan.— Theology: or the corruption of reason by "original sin" (Christianity). Witness Renan who, whenever he risks a Yes or No of a more general nature, scores a miss with painful regularity. He wants, for example, to weld together la science and la noblesse: but la science belongs with democracy; what could be plainer? With no little ambition, he wishes to represent an aristocracy of the spirit: yet at the same time he is on his knees before its very counter-doctrine, the évangile des humbles—and not only on his knees. To what avail is all free-spiritedness, modernity, mockery, and wry-neck suppleness, if in one's guts on is still a Christian, a Catholic—in fact, a priest! [1] Renan is most inventive, just like a Jesuit and father confessor, when it comes to seduction; his spirituality does not even lack the broad fat popish smile—like all priests, he becomes dangerous only when he loves. Nobody can equal him when it comes to adoring in a manner endangering life itself. The spirit of Renan's, a spirit which is enervated, is one more calamity for poor, sick, will-sick France.

NOTES—
[1]:
Renan was educated by priests, and for a time was a priest as well before feeling too hampered by the church in his academic pursuits. Thus, he broke with the church to teach on his own terms, but this made him no less a Catholic in his academic endeavors.
*Nietzsche, F.
The Portable Nietzsche
. Translated and edited by Walter Kaufmann. New York: Viking Penguin, Inc., Penguin Books Reprint, 1954.
"Of course an anti-Zionist (as well as an anti-Semitic) point is being made here: The Palestinians have a greater political right to Palestine than the Jews do, as they, not the modern-day Jews, are the true descendants of the land's Jewish inhabitants/owners."
"This theory… is supported by no evidence whatsoever. It has long since been abandoned by all serious scholars in the field, including those in Arab countries, where the Khazar theory is little used except in occasional political polemics."
Source:
Alleged Khazar Ancestry of Ashkenazim
Useful links on genetics:
Freerepublic
Familytreedna
Khazaria
Liebertonline
Humanitas-international
Britam
CryptoJews
Further information:
Jews as Nation
STEVEN PLAUT: THE KHAZAR MYTH AND THE NEW ANTI-SEMITISM